About
Yore Yoga
Yore Yoga is a Dubai licensed entity offering Classical Hatha Yoga in its purest form and meditation. The teachers at Yore Yoga have undergone about 1750 of intensive training at Hatha Yoga School, Isha Foundation, Coimbatore India. Yore Yoga offers a range of classical Hatha Yoga from breathing techniques, to exercising the joints and advanced yoga practices to attain a state of body which is no more an obstacle in life but becomes a possibility to achieve ultimate well being. Since inception, Yore Yoga has imparted Hatha Yoga to hundreds of people through the group, corporate and individual programs. Yore Yoga conducted several free awareness sessions including sessions at Nestle, Petrofac, Thumbay Hospitals, Westiminster and CASS schools, to name a few. Yore also supported the month-long Dubai Fitness Challenge in Oct-Nov 2018 through free sessions at five locations.
Meet Our
Instructor
We are trained teachers from Isha Hatha School of Yoga under the guidance of Sadhguru, Yogi Mystic & Founder of Isha. Our goal is to offer classical Hatha Yoga in its purity as it was transmitted from Yogi's of the yore.
Sowmya Venkatesan
Sowmya underwent a continuous five months intensive Hatha Yoga teacher training program at Isha Foundation, Tamil Nadu, India. A physiotherapist and a Hatha Yogi, she can tailor programs that best suits you physically and to strengthen your inner self. For the past four years, Sowmya has transmitted Isha Hata Yoga to over thousand people through group, private, retreats and corporate sessions in Dubai, UAE. Sowmya is the founder of Yore Yoga.
Paridhi Modi
Born and brought up in Delhi, Paridhi Modi is a naturalised Australian, most recently living in Dubai. Life transformed hugely since 2015 after she googled for Hatha Yoga Programs. She did the Hatha Yoga Teacher Training in 2015 along with Inner Engineering but she longed for more. She took-up Bhava Spandana, Shoonya, and Guru Pooja and followed it with volunteering work and had the privilege to live in the ashram for most of 2017. She has been transforming this life changing Isha programs through sessions in India, Hong Kong, Sydney and now in Dubai. She remains open to observe and learn at each opportunity in order to enhancing the perceptions.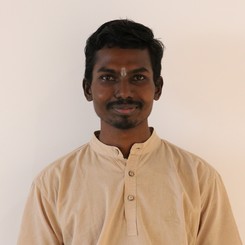 Palanikumar Ganesan
An engineer by profession, Palani left his job in 2016 to find his life's calling and went through the most profound 21 weeks hatha yoga teacher training program at the Isha yoga centre Coimbatore. He has been involved in teaching yoga and volunteering across Tamil Nadu, India. He is teaching at Yore Yoga since mid-2019. Palani holds imparting yoga and raising human consciousness as the most important thing above anything else.
About
Hatha Yoga
"Ha" means Sun and "Tha" means moon. So, Hatha yoga is all about bringing a balance between the sun and the moon which are within the human system. Hatha also in common usage means being adamant. This is the quality that you will need. Hatha Yoga is a science of asanas. If you consciously get your body into a certain posture, you can also elevate your consciousness. the very way you think , feel, understand, and perceive life can be altered just by keeping your body in a particular way.